1987: TETRA CLASSIC IS BORN
1991: Greg LeMond races the Tour de France on a Tetra for Team Z.
Fast Forward Another 30 Years: This handmade carbon stunner is rolling with a custom laminated bar stem made out of a No.9 handlebar and a Calfee carbon stem.
Featuring a full Campy groupset and a painted-to-match No.9 Fork for improved compliance, we're simply stoked on every detail here.
UNLIMITED GEOMETRIES. UNLIMITED POSSIBILITIES.
To make your ride feel confidence inspiring on every single trail you ride.
Introducing the all new Calfee Cephal: A modular mountain bike & monster gravel bike with an adjustable head tube angle, eccentric bracket, and leaf spring rear traingle.
BAMBOO BICYCLE?
Bamboo makes for a natural material for bike building. Since we built the first modern bamboo bike in 1995, we've been amazed by the strength and the ride quality. Bamboo has the best vibration damping for the smoothest ride. It's perfect and convenient that nature provides it in a huge range of tube diameters and wall thicknesses.
CALFEE CARBON REPAIR
Since 2003, we've managed over 12,000 carbon frame repairs for riders, retailers, and manufacturers. Starting at a 7 to 10 day turn around time, we'll get you back on your bike in no time. Most repairs are protected by a 10 year warranty.
Booomers Bikes
Complete bike made by Booomers, the company that grew from The Yonso Project in the Ashanti Region of Ghana in West Africa. Craig trained this group in 2009 and has advised them as they grew to sell bikes into Europe. MyBoo sells them in Germany and now Calfee is selling them in North America.
City Bikes and Gravel bikes are available. Each bike listed here has been evaluated and inspected. Each one is a bit different, so if you are looking for specific geometry characteristics, please contact us and we will help you select the correct bike.
Just arrived from West Africa!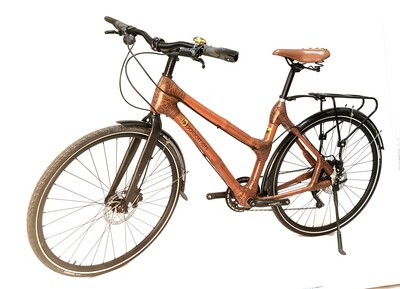 Booomers City Bike Step Thru
Booomers City Bike Step Thru
The easy step thru version of the City bike!
Just arrived from West Africa!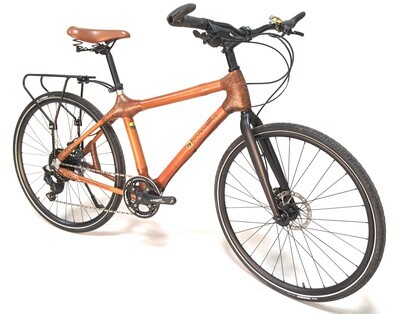 Booomers City Bike
The perfect stylish City bike!